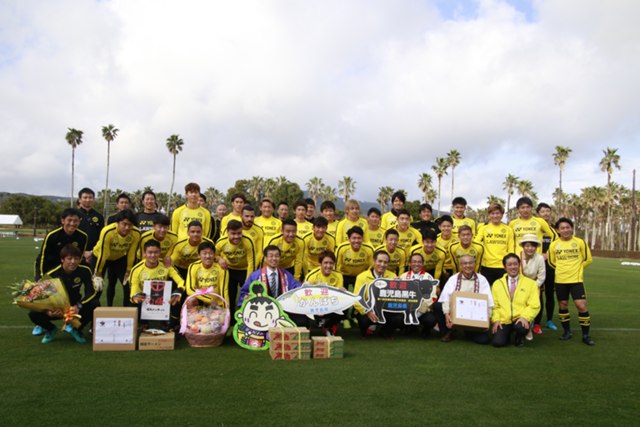 Kashiwa Reysol of J1 league carries out camping ahead of the start in Ibusuki in spring in champions league (ACL) play-off in Asia and season of 2018.

We carried out camping encouragement-style ceremony in spring on Wednesday, January 17.
From each site in relations in Kagoshima and Ibusuki-shi, "SUB SOUP Chabushi" using honkosetsu which was Ibusuki product broad bean and snap pea of amount of production Nihonichi, top quality goods of dried bonito beat game including Kagoshima black cattle which shined with the best Japanese beef in Japan and presented "Takeru Katsu person ramen" of this and encouraged team.

We carry out camping until Wednesday, January 24 in spring in Ibusuki.
As it is valuable opportunity to be seen in professional footballers close, come to visit by all means.


■Schedule from Thursday, January 11, 2018 to Wednesday, January 24
■Place Ibusuki iwasaki hotel soccer ground
※For more details, please confirm homepage of club.