We hold quite popular treasure hunt event this year last year under the theme of "the late Tokugawa period"!
Nine treasure chests are hidden Ibusuki-shi, Minamikyushu-shi, somewhere in area of Osumi area.
Participation is free, and anyone can participate from child to adult.
With the help of map of treasure and tour guide book of each place, let's go for odyssey!
※We are making map of treasure now. We install in distribution place as soon as we are ready.
1 period
From Tuesday, August 1, 2017 to Tuesday, October 31, 2017
2 holding places
Ibusuki-shi, Minamikyushu-shi, Osumi area
3 participation method
(1)Let's obtain map of treasure and each local tour guide book!
(2)We solve "mystery" in map of treasure, and let's find out treasure chest hidden in various places!
(3)We collect a certain keyword in treasure chest, and let's report in discovery report!
※ From person who filled out questionnaire in discovery report place, we present wonderful prizes such as NEW Nintendo 3DSLL and pair for free accommodation coupons of the accommodations in Ibusuki-shi according to the number of the discovery of treasure chest by lot!
Main distribution place of map of 4 treasure
(1)Ibusuki-shi, Minamikyushu-shi, road station or tourist information center in Osumi area
(2)Ibusuki-shi Tourism Division
※ We are making map of treasure now. We become able to download from each local homepage if ready. Please wait for a while.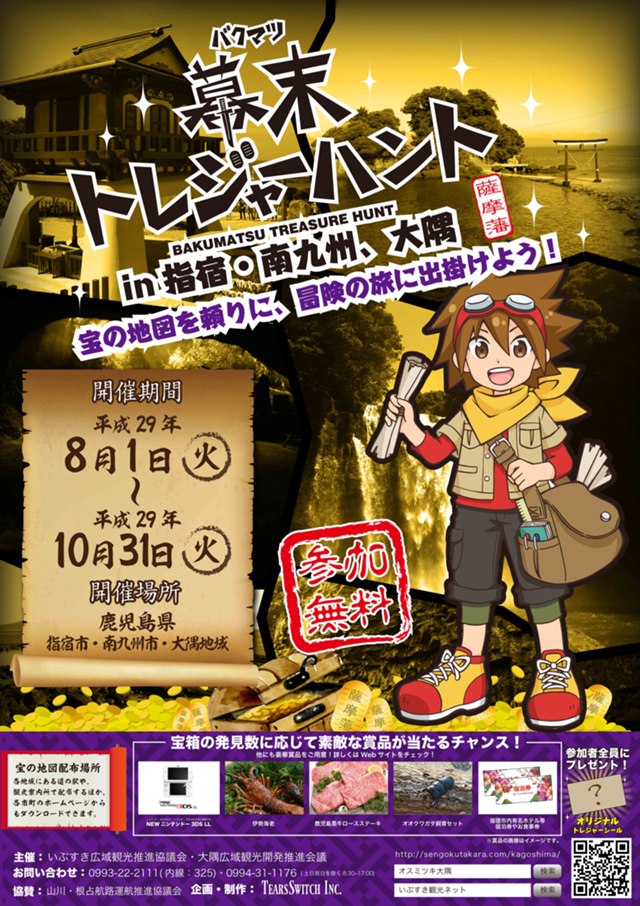 Contact information
Ibusuki wide level sightseeing promotion meeting (Ibusuki-shi Tourism Division sightseeing invitation person in charge) TEL: 0993-22-2111 (extension number 325)