Funny cars gather the former excellent car in the foot of 100 famous mountains in Japan "Kaimondake"!
[entry qualification vehicle]
(1)First year registration or production age is four of them, Miwa, two-wheeled vehicle until about 1990 (Heisei 2)
(2)Big motorcycle (more than 1000cc)
(3)Rare car which executive committee detects in particular
[offer number] Four of them, Miwa (around 200), two (around 50)
[deadline for application] Effective postmark on Friday, March 24, 2017 (as for the participation on that day, possible)
※But we may close before time limit when we reach planned number.
The details are offer essential points. Please see PDF.
●Participation application PDF / DOC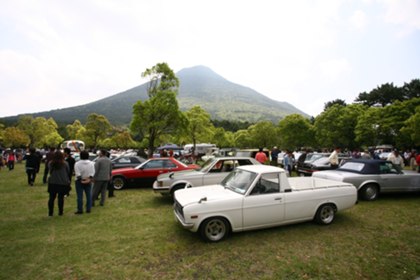 Event information
The date
Sunday, April 16, 2017
※We cancel on stormy weather
Holding place
foot of worth thing contact park (automatic campground)
Time
From 10:00 to 14:30
Rate
Free of charge
Contact information
0993-32-5566
Sponsor
Kyushu old car Festa in Ibusuki worth thing committee meeting to carry out